Fishing Pictures
Do you have any fishing pictures that you would like to show off to the world? Surfcaster.com Would love to see them and maybe put them up on our web site! Send them to us!

Please be sure and include all the details like:
- Where You Caught It (State and Area)
- Time of Day
- Time of Year
- Bait Used
- From Shore or Boat
- And Anything Else You Think A Sport Fisher Would Like to Know!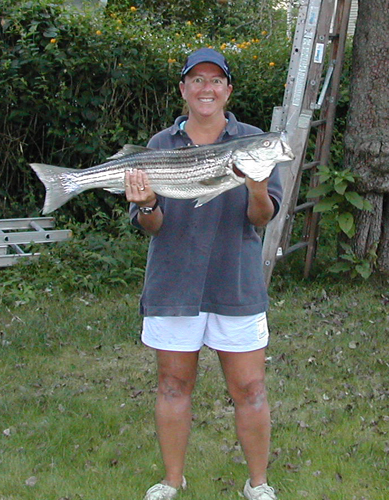 Rosewood and her First!
Description: I caught this fish in the Parker River on outgoing tide on August 29th 2003. I used fresh herring.

It was my very first Keeper in my life so I was very excited. Compared to some of the other guys it wasn't huge...31" but it was gigantic to me.

I didn't have a scale so I didn't know how much it weighted. I have since caught bigger but this one was special because it was my first.